Dr. Laura Betts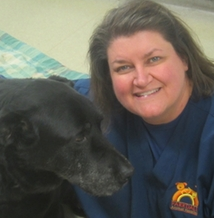 Dr Betts graduated from the University of Florida CVM in 2000. Before veterinary school, Dr Betts spent a decade as a paramedic on the sunny shores of Florida with special duties on the Hazardous Material Response Team and the Marine Search and Rescue Team.
After veterinary school, Dr Betts completed a one-year medical/surgical internship at Friendship Hospital for Animals in Washington, DC. Upon completion of the internship she remained at Friendship for 3 years as a clinician.
Family drew Dr Betts and her husband, Roger, to Michigan where she practiced emergency medicine for 4 years. The shores of western Michigan became their home when they bought Parkdale Animal Hospital. At Parkdale Dr Betts was able to make in impact in the small community by starting a rabies vaccine clinic, sponsoring community projects, introducing children to vet med through a monthly Teddy Bear Surgery Day,  helping control the feral cat population through a cat neuter program and hosting a radio question/answer program.