Vice President of Finance
Senior Owner Success Manager
Director of Strategic Initiatives
Nick McCart is the President of the Veterinary Cooperative.  Previously, Nick was the Vice President of Operations, and prior to that the Director of Marketing, and lead TVC's Technology and growth efforts. in marketing and legal services. He is based in Austin Texas.
Nick hails from the University of Denver with a degree in International relations with a focus on business and conflict resolution. He is a Colorado native, bi-lingual, loves to travel having lived in in three different continents.
He started working for the cooperative at the 350 Member mark. Alongside everyone at The Veterinary Cooperative, he is an animal lover, and has rescued a border collie from a reservation in New Mexico. A lot of his free time is dedicated to his dog Schröder and his agility training. He enjoys hiking up the Colorado peaks in the summer, and skiing down them in the winter.  He is also an experienced photographer.
Nick is passionate about designing a more engaging and rich shareholder experience for the hospitals and vendors who partner with the Veterinary Cooperative. As the Industry is rapidly shifting and consolidating Nick is dedicated to independent cooperative culture and is happy to take part. His mission is to better help small and medium size  business owners compete all over the United States.
Laurie Gonzalez is the Vice President of Finance, previously she served as the Representative at The Veterinary Cooperative. A dog lover for as far back as she can remember, Laurie grew up in Chicago in an apartment building that, to her dismay, did not allow pets.  So at age 10, she launched a highly popular and lucrative neighborhood dog-walking service. Despite spending much of her youth dreaming of being a vet, she majored in psychology at the University of Illinois and chose instead to earn a law degree from Stanford University and a Ph.D. in clinical psychology from UCLA.  While pursuing her degrees and developing an expertise in the area of child abuse, Laurie spent significant amounts of her time collecting and analyzing data for several research projects. She also provided psychotherapy for adults and children at UCLA's Neuropsychiatric Institute, and taught Psychology and Statistics classes.
Laurie and her family recently moved back to Chicago after spending several years living in the Los Angeles area and Nashville. During that time, she served as editor-in-chief and advertising director for the monthly magazine at Lupin Hill Elementary School in Calabasas, CA, and treasurer/administrative manager for travel basketball and baseball programs.  When not working, Laurie enjoys spending time with her husband and sons, volunteers at a school library, is a bit of a workout nut, and loves to hang at the beach with her dog Buddy.  She is extremely excited to finally be working in the veterinary industry.
Chad is the Senior Owner Success Manager at The Veterinary Cooperative, he leads our Sales and Support efforts.
Chada native of South Kansas City and graduated from Kansas State University with a degree in Architecture.  After two years working as an Architect he returned to school for Pre-Medical Science courses.  Upon finishing his science coursework he decided to work on gaining a career in Medical Sales.
He started his Sales Career in Optical Sales and after one year was given an opportunity to work with IDEXX Laboratories.  For the next eight years he worked in sales, product and sales training and management before deciding to end his excessive travel to be home most nights.  He married his Wife, and helped her open Clark Family Dentistry in St Joseph, MO.  As his wife was opening her dental practice, Chad began working with Patterson Veterinary while maintaining the books and payroll at the dental practice. In 2015 Chad left Patterson to take the position of CFO at his wife's quickly growing Dental Practice on a full time basis where he implemented many of the business cost savings he had learned from Patterson's partnership with TVC.  Having a true enjoyment in helping his Veterinary Clients either grow their business and/or helping them with business ideas and cost savings over his 14 plus years in the veterinary industry and spending the time in helping his wife run and grow the Dental Practice he decided that he wanted to return to the Veterinary arena to continue to help the Independent Veterinarian compete with the Corporate world of Veterinary Medicine.
When not working, Chad spends all his time with his Family. (Coen 6, Gracen 4, Halle 2 and his wife Heather, age unknown)
Brittany Hull is a our Director of Strategic Initiatives at The Veterinary Cooperative, where she focuses her time on strengthening the relationship of TVC Members with its vendors and distribution partners.  Brittany is based just out of Nashville, TN where she and her family run a competitive show lamb business, Hull Club Lambs.  Brittany grew up on the west coast participating heavily in 4-H & FFA—traveling the country to partake in livestock shows, public speaking engagements, marketing competitions and everything in between.  She served as both the Oregon FFA State Secretary and Oregon 4-H Ambassador as a culmination to her time in both organizations.
Through college Brittany worked for a many-times-recognized veterinary practice in Wellington, Colorado where she found a love for providing heightened levels of client experience to pet parents, and learned to understand the unique demands put on those involved in the veterinary industry.  From there she has made a career in the distribution side of the veterinary world, and is excited to have the opportunity to bring value and real-world savings to our clinics through programs at TVC.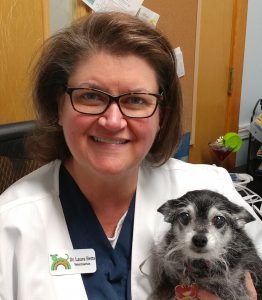 Dr Betts graduated from the University of Florida CVM in 2000. Before veterinary school, Dr Betts spent a decade as a paramedic on the sunny shores of Florida with special duties on the Hazardous Material Response Team and the Marine Search and Rescue Team.
After veterinary school, Dr Betts completed a one-year medical/surgical internship at Friendship Hospital for Animals in Washington, DC. Upon completion of the internship she remained at Friendship for 3 years as a clinician.
Family drew Dr Betts and her husband, Roger, to Michigan where she practiced emergency medicine for 4 years. The shores of western Michigan became their home when they bought Parkdale Animal Hospital. At Parkdale Dr Betts was able to make in impact in the small community by starting a rabies vaccine clinic, sponsoring community projects, introducing children to vet med through a monthly Teddy Bear Surgery Day,  helping control the feral cat population through a cat neuter program and hosting a radio question/answer program.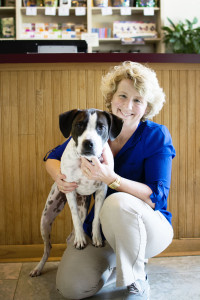 Dr. Anna Coffin graduated from Oklahoma State University School of Veterinary Medicine in 1994.  She practiced as an associate veterinarian in New Hampshire for three years.  In 1997, Dr. Anna Coffin moved back to her home town of Guthrie, Oklahoma and purchased a small animal clinic.  Guthrie Pet Hospital gained AAHA Accreditation in 2003 and became a Cat Friendly Certified Practice in 2013.  In 2014, she became a member of the AAHA Online Engagement Committee where she helps AAHA and its accredited members utilize social media to help spread the word about AAHA accreditation.  In her spare time, Dr. Anna Coffin manages and operates a local copy shop and Bed & Breakfast.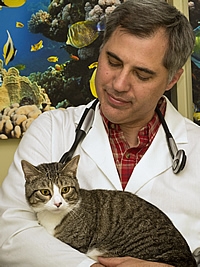 Dr. Hosek has been the owner of Merrick Animal Hospital in Brookfield Illinois since 2008 and has operated a house call practice, Custom Veterinary Care, since 1991. He graduated from the University of Illinois in 1988 and did a Small Animal Medicine and Surgery Internship at the Univeristy of Pennsylvania. He has a strong interest in feline medicine.
His other interests include gardening, woodworking, playing violin, and writing fiction. He participates in the local boy scouts and a mentoring program for middle school boys in Chicago. He also serves as the Nebula Award Commissioner for the Science Fiction and Fantasy Writers of America (SFWA) and is working on a mystery series with a veterinarian as the detective. He is a big Doctor Who fan and loves to bake cheesecakes for his staff on their birthdays.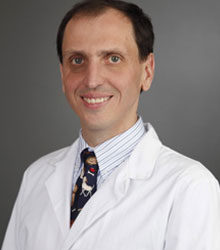 Dr. Tarassov graduated with honors from Ural State Institute of Veterinary Medicine in Russia in 1999. He became licensed in the USA in 2008 after completing review program for foreign graduates at Kansas State University and ECFVG certification. He completed Emergency and Critical Care internship at Animal Emergency and Specialty Services in Milwaukee, WI in 2010 and Neurology internship at Veterinary Neurological Center in Las Vegas, NV in 2011. He has broad experience in the field of veterinary medicine. After graduating from the veterinary school, he started working primarily with dairy cattle and was involved in dairy cattle clinical nutrition research. In 2004 Dr. Tarassov made a shift in his career towards small animals. He worked in general practiceas well as with laboratory animals in research setting. Because of his passion of sharing his knowledge and experience, he taught in veterinary technology program at Globe College in Minnesota. Dr. Tarassov also lectured on many veterinary conferences internationally and in the US. He helped to organize and lectured at over 20 veterinary conferences in Russia, Czech Republic, Germany and Thailand. Dr. Tarassov volunteered on multiple Rural Area Veterinary Services trips to underserved areas in the US. He also spent several weeks with the same group in Louisiana after hurricane Katrina, providing veterinary care for lost and abandoned pets. Dr. Tarassov became a clinic owner in 2015 and is a big advocate of veterinary practices being owned by veterinarians.