Member Experience Representitive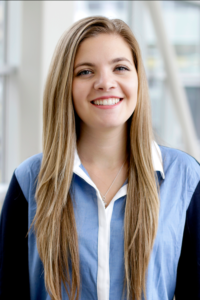 Sarah Sgromo is a Member Experience Representative at The Veterinary Cooperative. She began her career with TVC as an intern in June 2016 and knew immediately that the TVC community was where she wanted to work after graduation because of their mission to keep independent veterinary clinics independent. She graduated from Ithaca College with a degree in Communication Management and Design. In addition to her degree, Sarah received a minor in Art with a concentration in Graphic Design. While pursuing her degree, Sarah freelanced as a graphic designer and brand development consultant for various local businesses. Sarah is based out of her hometown, Syracuse, NY (Go Orange!). 
Just like the other members of the TVC team, Sarah enjoys surrounding herself with her four-legged friends, Roxy and Cali. She enjoys taking her dog Roxy on adventures to the Adirondack Mountains to go hiking, mountain biking, and exploring. On her many adventures, Sarah always has her camera ready to capture the moment. When she is not off exploring in nature or spending time with friends and very large family, Sarah enjoys painting and cuddling up with her oldest friend Cali, her 18-year-old cat. 
Sarah has a strong passion for instructional and graphic design as well as working with independent businesses, providing them with the tools they need to succeed, and TVC enables her to pursue that passion. She couldn't be more excited to be a part of the TVC community and use her marketing, strategic communication, and design skills to enrich TVC's member experience.  
 Sarah Is based out of Syracuse, NY